Join our Natural Area Assessment volunteer team!
(formerly known as Bioreserve volunteers)
Get outside, meet new people, and learn about local natural areas while supporting HRWC's work.
Field assessment volunteers will inventory ecologically important natural areas in the watershed. Each assessment takes about 3 – 4 hours, and involves a nature hike (yay!) through a woods or wetland. Volunteer teams conduct rapid ecological assessments of grasslands, forests, wetlands, and aquatic habitats throughout the spring, summer, and fall. Volunteers who sign up for the assessment program will join a team of two or more to do the assessments during the spring and summer. We also ask that natural area field volunteers attend a half-day training session.
Our volunteers have assessed over 280 properties throughout S.E. Michigan!  Land conservancies and community preservation programs use the data gathered to promote permanent protection of those lands identified as the highest quality and most important for protection of the Huron River.
If you don't want to attend training, but you have some plant knowledge, you can still help with field assessments
If you have some experience in plant identification, we need your help! Volunteer teams will be conducting rapid ecological assessments of grasslands, forests, wetlands, and aquatic habitats throughout the spring, summer and fall.
Every team will need at least one "plant person" — someone who has either taken a plant identification class, or has become familiar with wildflowers, grasses, and trees over time spent hiking this beautiful watershed.
Your task will be to call out to your team members all the plants you can identify, and take pictures of those you can't (to share with us for later identification). You will be able to practice your plant ID skills while learning more and more plants with each visit.
If you have these credentials and are interested in being the designated plant identifier for a team then there is no training required. We just need you to participate in the 3-4 hour field assessments.
Natural Areas Field Assessment Training
HRWC Field Assessment Volunteers — Join us as we launch our new and improved field assessments!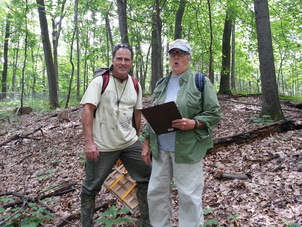 Gone are the damp and messy paper worksheets. Say hello to the digital world of collecting field data with the Survey123 app.  You can enter plant species, map out ecosystems, take pictures, and check off ecological characteristics, all with your phone or tablet.
May 19, 2022

HOW TO JOIN NATURAL AREA FIELD ASSESSMENTS
If you have attended one of our training sessions and you are not already on our list, e-mail us here or call 734-769-5123 x 607  to sign up.
If you have not attended a training or volunteered with us before, watch the training above, fill out our volunteer sign up form and we will send you notifications.
If you have volunteered with us before and have not attended a training, watch the training above, e-mail us here to let us know you are interested.
Once on the list, look for regular emails describing upcoming assessments. You can sign up for any that interest you.
Each assessment takes about 3-4 hours, depending on travel time.
Here's an example of the report that we send to property owners, the local community and the local conservancy, using the data you collect.
TIPS ON DOING THE FIELD ASSESSMENTS
The packet will include a suggested route, but you may decide to take a different one – feel free. Just remember to draw your actual route on the map.
The packet will include a map of preliminary ecosystem boundaries. This may be different from what you find in the field. Remember to draw the actual boundaries of wetlands, forests, etc. that you observe.
Be sure to remember to fill in your names and the site name on the top of every worksheet.
Please answer every question. Some questions we noticed tended to go unanswered last year are "species number" and the ones about percent cover. These are estimates and, understandably, it may be difficult to arrive at a final number. But we need your best guess!
Remember that the people who will eventually input this data have not been out to the property, so they are relying on decisive, clear entries.
Check all boxes that apply for each question.
As you walk through a site, you may walk through small wetland patches, then forest, then wetland again. If these patches seem similar, you can fill out one worksheet to represent the different patches, as long as they seem similar to you (e.g. a series of vernal ponds within one forest, or two predominantly oak forests on sandy soils divided by a farm field).
If you bring a camera, pictures are great! Use this Bioreserve Field Assessment Picture Form to keep track of your photos. There will be 2 kinds of photos you may want to take. One is a general overview scene of the ecosystem you are assessing. The other is any "mystery" plant you can't identify in the field. We don't want you to have to spend more than a half a minute to identify plants out in the field, so take a picture of it to identify later, or post on our "mystery plants" web site. The form also has a spot to jot down major characteristics of the mystery plant to help you get through a plant ID key at home.
Feel free to fill out the form digitally as well, and email it.
Please email Kris with any other comments or questions about doing the survey, submitting the maps, etc.
EXTRA RESOURCES
Check out our online plant guides, showing all the plants identified on our assessment sites so far:
Wetland Plants--These are plants that can be found in wetland environments. Species are organized in this set by those most frequently found to least frequently found.
Grassland Plants-– These are plants that are found in local grassland environments. Each species is organized in this set by those found most frequently to least frequently.
Forest Plants-– These are plants that are found in the Forest. Plants are organized in this set by most frequent to least frequent.